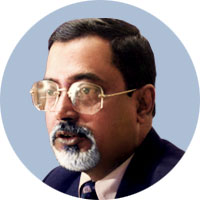 Late Anjan Chaudhury

(1958-2015)

Late Anjan Chaudhury, an MBA by qualification, started his career in various renowned FMCG organisations and then with the service industry. He served the service industry for more than a decade before initiating the formation of the Visual Group. He had an overall experience of more than 35 years as a leader in the corporate sector.

Mr. Chaudhury had been a first generation entrepreneur and founder of Visual Securas Limited. He established the organisation in January 2005. He initiated the activities with just a handful of people and a small rented office in Kolkata. Today, within a span of just 10 years Visual has expanded in each metropolitan, suburban and even at the remotest locations of North, South, East, North East and Western parts of India with its various wings of services. Visual family has now expanded with a workforce of more than 10,000 employees.